The team at NC Associates would like to share their congratulations for Darren Todman, who was this week promoted to Office Manager of the headquarters in Manchester.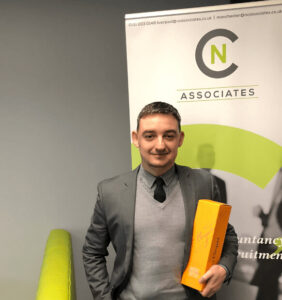 Darren has been with the business virtually since its inception nearly three years ago, working alongside the founders to help define the systems and processes that help NC Associates run so seamlessly. Behind the scenes Darren has been working tirelessly to standardise what we do, how the business is presented and in many cases is the first point of contact for clients and candidates coming into our Manchester head office.
In recent years, the business has expanded from its central Manchester hub to now include regional operations in Leeds and Liverpool. As a rapidly growing business, we're always keen to hear from passionate individuals that are ideally experienced in the financial and accountancy recruitment world – so if you want to work for a business that will recognise and reward your hard work, come and speak to us.
Check out our Work For Us page for more information.
"Promoting Darren demonstrates the reward culture we have at NC Associates. If you work hard and consistently perform well, are committed to the company and embody our values, then all career paths are open to you. We recognise the importance of rewarding hard work and good performance, and I'm delighted to see Darren recognised for what he's done here."
Wayne Caunce, Managing Director at NC Associates.