We were delighted to be able to take Mat Hanson, Finance Director at Aquam to the Manchester United vs Liverpool match yesterday.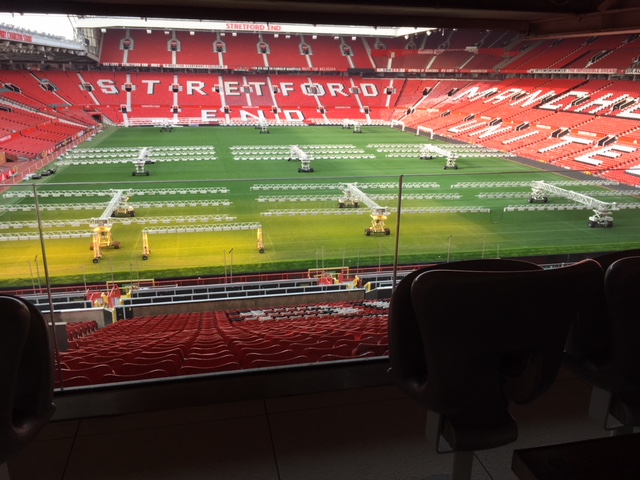 Mat recently entered and won our competition for a place in our exclusive corporate box at Old Trafford.
Our corporate box at Old Trafford really takes watching the beautiful game to another level. And we're naturally pleased to be able to show it off in this way and make it available for our clients and candidates to use. If you missed out on this chance to come along, then don't despair. We regularly run similar events – and indeed, we have more tickets available in April this year, for the upcoming match between Manchester United and West Ham.
Corporate hospitality at Old Trafford

At NC Associates we're firm believers in building lasting relationships with our colleagues, clients and candidates. Besides the various seminars, events and open days that we host, we also have a box at Manchester United for client and candidate entertainment. In February we were delighted to host Mat Hanson from Aquam at the Liverpool vs Manchester United game. And we'll be again making the box available for the West Ham vs Manchester United game. Fancy your chances or winning the tickets? You have to be in it, to win it… so make sure you get your entries in before the 5th April deadline. The game takes place on the 13th April and we can't wait to take another lucky client or candidate along with us.
Want your chance to come?


On 13th April 2019, Manchester United will be taking on West Ham… and we've got tickets available for our corporate box. If you want to be in with a chance of winning, simply supply your details and answer the tiebreaker question, "How will Brexit affect your recruitment plans in the next 6-12 months?"
The small print
To be in with a chance of winning, you must have registered with NC Associates – either as a client or candidate.
Entry into the prize draw is limited to one entry per person.
The winning entry will be drawn on 5th April 2019.
The winner will be announced on the NC Associates website and on associated social media platforms.
Entrants must consent to their name and company name being used in promotional materials.
The prize is two tickets for a future match at Old Trafford, in the NC Associates box.
No cash or other alternative will be offered if the winner is unable to attend on the day of the selected match.
The specific match will be confirmed with at least two weeks' notice.
This prize draw is not affiliated in any way with any social media network that it appears on, such as LinkedIn, Facebook or Twitter.
In the event of any uncertainty, the decision of NC Associates management team is final.
Please note, this competition is now closed.