The team at NC Associates were thrilled to be shortlisted for three separate awards at the Bluestones Investment Group's annual black-tie awards event. To then go on and win all three awards just cemented the fantastic year the business has had.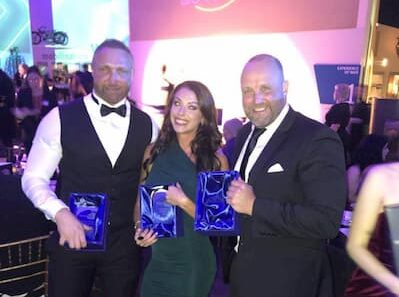 The annual Bluestones Investment Group* awards evening brings together recruitment brands from across the UK for a black-tie event that sees businesses competing in a range of hotly-contested categories. Rosie secured the "Highest Billing Perm Consultant" in the professional division, whilst the team went on to take home the awards for "Highest Billing Perm Team" (by headcount) and "Most Profitable Office".
Managing Director, Wayne Caunce commented on the triple awards win by saying,
To be shortlisted amongst such fierce competition was very satisfying, but to then go on and win in all three categories was just brilliant. We've had an incredible year… working hard, pulling together as a team and not only securing some impressive new clients but also paying out thousands in referral fees and placing hundreds of candidates in new roles. Well done team!
Each year the award winners are rewarded with an expense-paid internal trip – with previous years taking in Dubai, Ibiza, New York – and this time around the winners will be heading off to Las Vegas!
*NC Associates is a member of the Bluestones Investment Group's portfolio of companies.