Interviews can be a daunting experience at the best of times, but if the interview is taking place over video, it can create a whole host of additional challenges.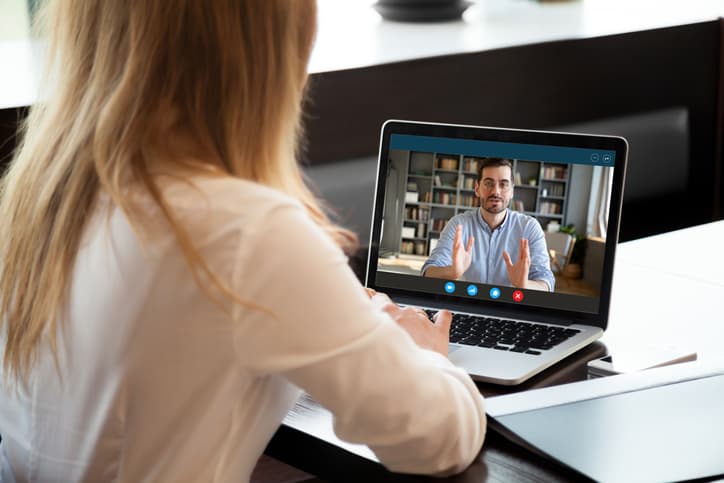 For job seekers, particularly in this socially-distanced environment we find ourselves in, it's increasingly an expectation that interviews with recruiters and hiring managers are now conducted over video… whether that's Zoom, Teams, FaceTime or some other platform.
And it's certainly our recommendation that simply winging it, or expecting the video interview to run in the same way as your weekly catch-up with friends, or online quiz, isn't the best approach to adopt. So here's our helpful guide about how to have a great video interview.
1. Be prepared


First and foremost, just as you would expect for any normal interview, preparation is key. So, make sure you research the company you're applying to work with, know what the role is about, review your CV and prepare answers to questions you might expect to be asked for the role you're interviewing for. Your recruiter should also help here and make sure you're fully briefed before your video interview.
2. Be punctual


It may be a virtual meeting, but being punctual is just as important. Make sure you're online and ready for the video interview a good few minutes before the actual start time. There's no point in booting your computer up or trying to log on at the time you're meeting is due to take place… as there'll be little chance of you being on time and an interviewer will probably just think you're a no-show. If you miss your slot, it's not like a typical interview where you'll be sat in a reception area waiting to see if an interviewer can fit you in. A subsequent interview will have to be scheduled again and there's no saying this will be possible or if the interviewer will agree to it.
3. Get the technology sorted BEFORE the interview


Whatever the platform you'll be using, make sure you've installed any required software or apps, updated anything you need to and logged into any accounts as required – to make sure when your interview time arrives that you're ready to start straight away. If possible, have a test run of the video software with a friend – so if it's Teams for example, set up a meeting with a friend or colleague and ensure everything works as it should do before the real interview takes place.
4. Think about your environment


This doesn't mean thinking about eco credentials! We mean you need to think about where you're going to be having your video interview. If possible, you want to be somewhere quiet, somewhere neat and tidy or even professional looking and try to minimise external noise and distractions. Lighting is also important. You want the main light source to be in front of you, rather than behind you, so that your face is properly lit for the other person rather than being cast in shadow. And if you live with others, it's best to let them know you're going to be in a video interview and see if they can let you have a little private time without interruptions. As much as you can, you want to replicate a traditional interview environment.
5. Speak clearly and slowly


Although video technology and internet connections are better than ever these days, it's not always perfect. There can be delays on audio transmissions or temporary freezing of video feeds, so to try minimise the impact of this, it helps to speak slowly and clearly. Make sure you're close enough to your device so that the microphones can pick up what you're saying easily enough.
6. Consider your attire


Remember that as it's a video call, you'll be visible to the interviewer so make sure you choose what to wear carefully. Even though you may be at home, you're still being interviewed for a potential employment opportunity, so dress appropriately. If you'd normally wear business attire to a face to face interview, we'd recommend doing exactly the same for your video interview. It will help give the right impression to the interviewer, and will likely assist with your mental state of mind too.
7. Listen carefully


As we've said before, video technology has come on leaps and bounds in recent years, but there are still limitations. So rather than talking over your interviewer and potentially causing problems in the audio transmission, make sure you listen to what they're saying or asking. And as with a traditional interview, if you need anything clarifying or want to make sure you've understood a question, the best way to do this is to ask.
8. Body language


Finally, as with your attire, remember that you're on-screen and can be seen by the interviewer. It's a face to face interview, just over a video connection. So we recommend minimising or closing all other applications so that you're not inadvertently distracted with other notifications or messages. And throughout the video interview, sit up, pay attention – and look like you are interested too. This also means making sure the camera is set at the right level – so if need be, prop up your laptop or phone, so that you're looking straight into the camera. This will help the interviewer see you properly and will give the right impression.
Most of what we've listed here is simply common sense. The majority of these tips are just as applicable for traditional interviews as they are for ones conducted via video. If your recruiter has put you forward for the role and briefed you for the interview, you should be adequately prepared and with these tips, you'll be well on your way to securing the role.
---
The team at NC Associates are always available to provide advice on video interviews and provide suitable guidance to all of the candidates we put forward, whether that's for regular face-to-face interviews or online video interviews.